SPIRITUAL READINGS AND GUIDANCE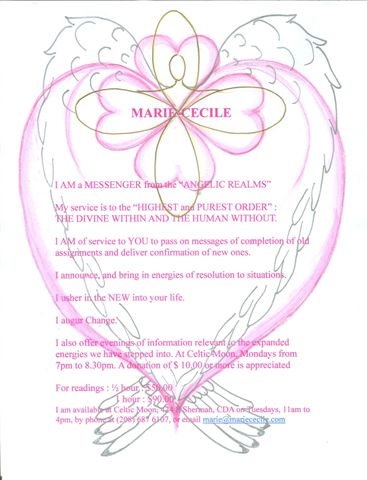 At the Soul Level, I AM of service to YOU as I bring energies of resolution to old situations, I augur change and usher the NEW into your life.
As a catalyst for transformation and a "door opener" I am able to assist you in uncovering hidden issues, whether rooted in childhood or in "past" lives and give you the tools to resolve them and empower yourself.
My knowledge and Knowing come not from the reading of books, but from having experienced "LIFE." Having successfully resolved my own issues has given me the clarity to "see" and "feel" into other's when given permission.
For additional information, please contact me at: marie@mariececile.com.
---
Copyright © 2007-2010 Marie Gargano
Unauthorized Reproduction is Prohibited